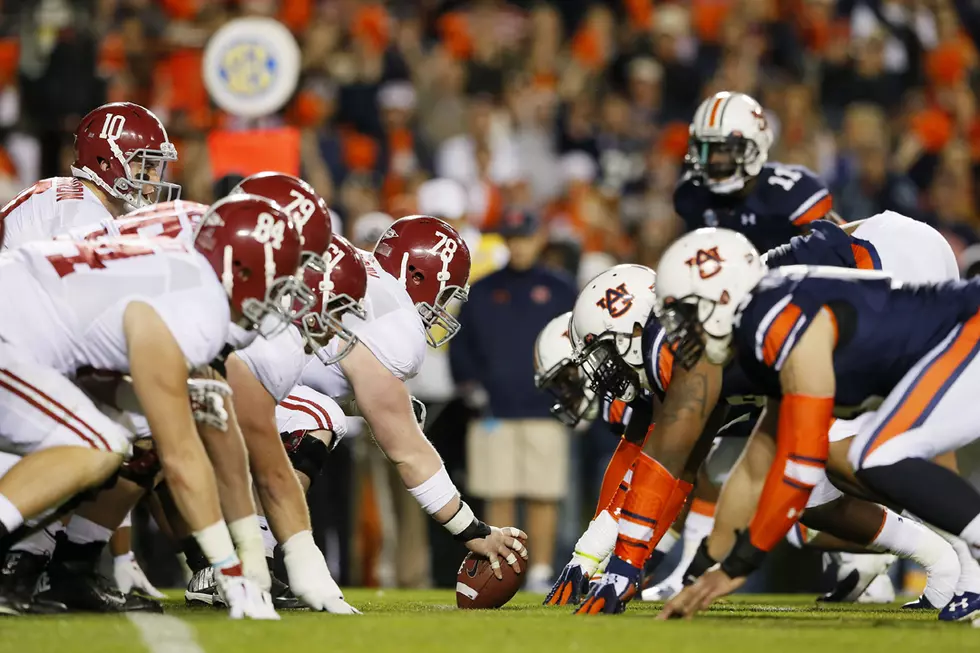 Which Rivalry Game Will Provide the Big Upset? Big Questions for Week 14 in College Football
Kevin C. Cox/Getty Images
The bad news is that college football's regular season is almost over. The good news is that this is rivalry week, so we should have some of the best games of the year. Here are the biggest question marks this week.
Can Lightning Strike Twice for Auburn?
The winner of the Iron Bowl has advanced to the national championship game in each of the last five years, winning four. So it doesn't get much better than this, particularly when you flash back to this time last year when the Auburn Tigers gave us one of the most exciting plays in college football history.
On paper, the Crimson Tide are a heavy favorite. But we all know that strange things can happen in rivalry games
This year, the Tigers are out of championship contention but still have the possibility of the next-best thing—taking a title shot away from Alabama. After all, this is rivalry week, and the only thing better than winning is relishing the sweet, sweet misery of your archrival.
Can Texas's Resurgence Knock TCU Out of Contention?
Everyone knew this would be a rebuilding year for Texas and, after numerous players being kicked off the team and a 2-4 start, it looked like the process for the Longhorns would be a painful one. But Charlie Strong's crew has turned a corner in recent weeks, winning four of their last five. The improvement has been particularly noticeable on defense, where a unit that gave up an average of nearly 29 points per game in five losses has held its last three opponents to just 36 points combined.
TCU currently stands at No. 5 in the playoff poll and will need some help from Auburn or Ole Miss this week or Georgia Tech (vs. Florida State) or the Pac-12 South winner (vs. Oregon) in next week's conference title match ups. But with no Big 12 conference championship game and just an early December matchup with 2-8 Iowa State on the horizon, this is TCU's last real hurdle between the Horned Frogs and a potential playoff spot. However, one slip up this week would make their title hopes disappear.
Can Melvin Gordon Get the Badgers Back to the Big Ten Title Game?
Although his single-game rushing record lasted for just a week, Wisconsin's Melvin Gordon is having a season like we haven't seen in some time. The senior has already topped the 2,000 yard rushing mark and has gone for 813 in just his last three games. Throw in 27 touchdowns this year and its easy to see why he's on the short list for Heisman voters. His tough running has the Badgers one win away from dancing in their third conference title game in four years.
On the other side is a team no one expected to be in this position. Minnesota was picked to finish fifth in the seven-team division. Instead, the Gophers are one win away from not just winning Paul Bunyan's Axe, but their first-ever trip to the conference championship game. Unfortunately, star running back David Cobb is doubtful after suffering a hamstring injury in last week's win over Nebraska. Minnesota is no stranger to tough challenges, though, with five of its seven conference games being decided by seven points or less. If they can at least slow Gordon down, this one could come down to the wire.
Can Florida State Survive ... Again?
Florida State has turned into college football's version of 'Groundhog Day.' Fall behind by double digits. Come back to take the lead. Hold off a late rally by the opponent. Survive to remain undefeated. Repeat.
The 'Noles have trailed in the second half five times this season and have won their last two games by just seven combined points. For a national title contender, the results have not been impressive except where it matters most—that big zero in the loss column.
Florida, meanwhile, is playing for pride and hoping to send coach Will Muschamp out with a win. Muschamp was fired a week ago, but agreed to coach the Gators in their final two regular season games. On paper it might be a mismatch, but Florida has improved of late, winning three of its last four, including a blowout upset of then-No. 9 Georgia. A win this week would knock the Seminoles out of title contention and, ironically, doom the Sunshine State to being largely irrelevant this postseason.
Can Mississippi State Hold On?
For Mississippi State, the stakes couldn't be higher and the writing on the wall couldn't be clearer. Currently sitting at No. 4 in the playoff poll, if the Bulldogs and Alabama both win this weekend, Mississippi State will be in the playoff. But they'll have to get past in-state rivals Ole Miss to do it.
Early in the season, this looked like it could be a play-in game, when Mississippi State was ranked No. 1 and the Rebels No. 3. But a couple of losses (including a turnover-filled 30-0 loss to Arkansas last week) have knocked Ole Miss out of contention. However, as we've already said, if you can't have a title shot yourself, grabbing one away from your long-time nemesis is the next-best thing. So expect Ole Miss and its top-ranked defense to show up with a much more solid effort.
Mississippi State has won four of the last five in this series, but never with so much on the line. Dak Prescott came off the bench last year to rally the Bulldogs to a 17-10 overtime win. Don't be surprised if we see some similar drama this year.
Happy Thanksgiving, everyone.